Benefits of PSIA Membership
By joining the PSIA, you can directly influence and contribute to how the security industry adopts standards that enable true plug-and-play interoperability among systems and devices. Our membership levels are:
Board
Participate fully in the development and evolution of the PSIA specifications at the Board Membership level. These members may participate on the PSIA Steering Committee and have full voting rights as well as all other membership participation opportunities and benefits (see chart below). Board membership is by invitation of the PSIA Board of Directors.  
Associate/Venture
These members deeply influence the details of specifications through belonging to and leading PSIA working groups as well as early access to specifications as they emerge, in addition to other membership benefits (see chart).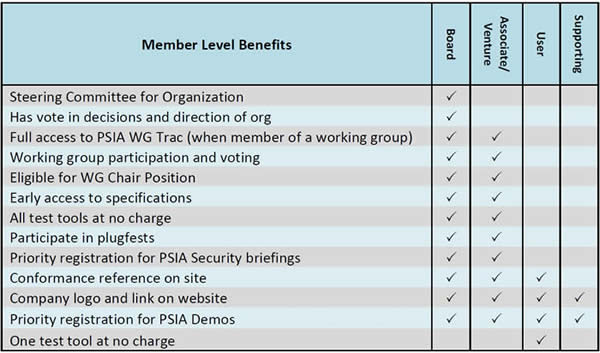 User
Security solution end users wishing to implement PSIA-compliant systems and devices will benefit from a User Membership in the PSIA. USER lever membership is any entity which has an interest in the objectives of the corporation and wishes to have the rights accorded to User Members as specified by the Board of Directors from time to time. User Members shall have such rights of access to certain products and tools of the corporation and to such promotional rights in the corporation's materials as the Board of Directors may determine. User Members shall not have voting rights for the corporation Companies that join as User members may upgrade to a higher level membership at any time.
Supporting Category
This new category encourages CSOs, integrators and consultants to show their support for the efforts of the PSIA. Members in this category are advocates for PSIA specifications and protocols and would work with the PSIA to promote. An advisory board will be formed in the near future that Supporting Members will be able to participate in.
Address
65 Washington Street, Suite 170
Santa Clara, CA 95050